Romanian society can be described as "laid-back" in some ways. With the sultry sun, the rich food, and the beautiful scenery, who wouldn't expect the people to be relaxed?
Because of that, you can let your hair down. Treat people well, and they'll treat you well.
Until you do something that you thought was obviously fine, and you realize that the other party took it as very obviously not fine.
That situation is confusing, embarrassing, and maybe even dangerous at the wrong time. And the worst part is that it happened from ignorance of Romanian customs, not malice.
So that's why this article exists: part phrasebook, part etiquette guide that helps you avoid doing things out of ignorance. Learning to deal with other cultures is simply learning to deal with what they perceive as "normal." Soon, you'll find that it's not so far from your own definitions.
Table of Contents
1. Greeting Others
Romanian greetings are no sweat, and possibly one of the easiest aspects of social etiquette in Romania. This is important, because correct greetings are sometimes your first and only chance to make a good impression.
First, you have to understand that Romanians divide the day into morning, day, and evening-night.
Thus to greet people, you'd say bună dimineața or "Good morning," bună ziua or "Good day," and bună seara or "Good evening."
Then you shake hands. Pretty simple!
Now the word dimineața is a bit long, so many people casually shorten it to 'neața, like English speakers might say "morn'n." It's still polite, as long as you say it earnestly and not with a grimace.
So those are the formal textbook greetings. And those are perfect choices to use when greeting people you don't know. But do be aware that it sounds a little odd to bust these phrases out in convenience stores or when asking for directions on the street.
The casual greetings are actually mostly taken from other languages! People in the Transylvania region say Servus, from German, while folks living in the west are likely to say Ciao from Italian. As English keeps spreading and getting trendier, it's also not unheard of for people to just greet each other with "Hey."
The "real" way is to just say bună at any time of day.
To take your leave from somebody, there's one all-purpose phrase for "goodbye": la revedere.
2. Traveling Etiquette & More Cultural Etiquette in Romania
If you're going to learn just a single phrase in Romanian, make it this one:
As you travel around, enjoying the "bakeries" (brutării) and "coffee shops" (cafenele), you'll probably say "thank you" a dozen times a day or more. American readers will probably be interested to know that when it comes to etiquette in Romania, people don't say "thank you" for every single interaction the way it happens in the U.S.. Buying the bread, receiving the bread, and getting your change should only require one thanks instead of three.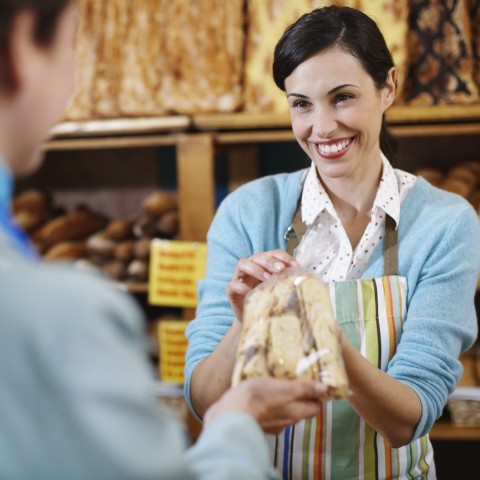 If someone has done you a particular kindness (this is quite probable thanks to Romanian hospitality), then there's an easy way to make your thanks more meaningful:
Mulțumesc foarte mult!
"Thank you very much!"
You're likely to hear others use the informal variant of "thanks." No prizes for guessing which language it came from originally:
Romania is actually a popular destination for the hitchhike-around-Europe crowd. This won't be a hitchhiking guide (you can find plenty of those online), but you should know that if you head to the outskirts of the cities, you'll notice people standing at designated spots.
People walking for the fun of it are relatively rare as well, so don't be surprised if somebody stops and offers you a lift! To politely decline, simply smile, shake your head, and say Nu, mersi meaning "No, thanks." To accept, get in and tell the driver the name of the place you're headed.
When you get to your tourist destination, you can follow the example of everybody else. Keep the space clean and keep your voice down as you travel around. In religious places, do your best to wear modest and decent clothing—if you didn't bring any, it's possible that you may be refused entry.
In most places, it's fine to click away with your camera, but if something seems particularly culturally significant, you'll want to use this phrase:
Pot să fac o poză?
"Can I take a photo?"
Although many Romanians are quite fluent and comfortable speaking English, there may be times when communication breaks down anyway. Or, like me, you find yourself the only visitor at a museum with signs all in Romanian.
Este ceva în engleză?
"Is there anything in English?"
You might be lucky enough to be invited over to someone's house. In that case, you should bring a gift, perhaps something for the children, some high-quality liquor, candy, or flowers (there are more flower shops in Romania than you would expect!).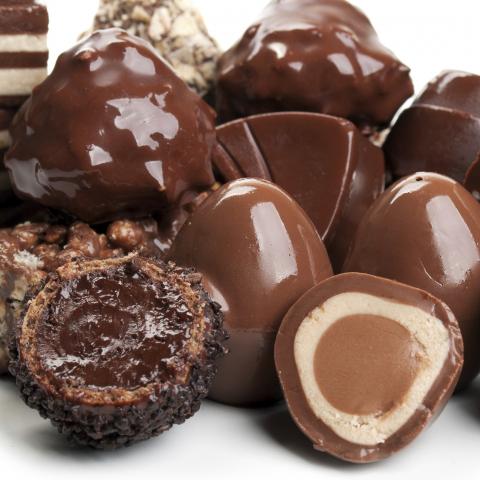 When you arrive, use this phrase:
Aveți o casă frumoasă!
"You have a beautiful home!"
3. Dining Etiquette in Romania
There are no big mysteries here—Romanian dining etiquette is quite similar to dining etiquette all over the Western world.
All over Europe, though, there's one little phrase that many people are flummoxed to find missing in English. This phrase is Poftă bună, literally "good appetite." When you hear this from the host, you've got permission to dig in.
Aside from that, eating etiquette in Romania includes eating with the knife in the left hand and the fork in the right. At big gatherings, cuisine is often served family-style in large dishes from which everyone helps themselves. Bread might not come with butter, but that's okay because you can dip it in the sauce on your plate.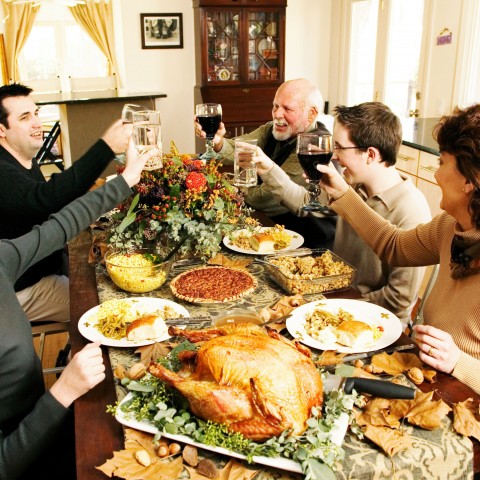 If you're not an alcohol drinker, you might feel a little intimidated or pressured by frequent toasts. That's okay. Just leave your glass about half-full and people won't bother you. If you would like to make a toast, raise your glass and say noroc!
Smaller restaurants might be short on table space, and in Romania there's nothing odd about sharing a table with a stranger as you eat your lunch. Simply ask:
Scuză-mă, pot să stau aici?
"Excuse me, may I sit here?"
Let's be real—both of you are probably just going to look at your phones anyway.
When you need the attention of the server, look in their direction and say vă rog, which literally means "please."
Nota, vă rog.
"The check, please."
You may end up hearing other Romanians around you say auzi to get the attention of their server. This is one example you shouldn't copy! It means "Can you hear me?" and it's considered very rude. Keep your interactions polite and respectful, and you'll always get the best service.
4. Business Etiquette in Romania
Have you ever considered having different business cards made for the different countries that you go to? It's a tiny detail that slips most people's minds until they reach for their wallet – and it suddenly dawns on them that the phone number doesn't include the country code, or something similar like that.
Poftim cartea mea de vizită.
"Here's my business card."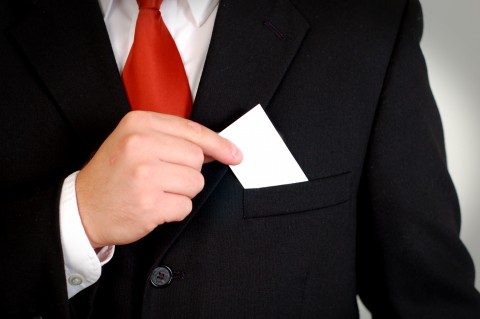 In addition, if your business has been around for a while, put that on there too. Even if it's actually a technicality and there have been major reforms, being able to say something like "Established 1953" holds a lot of weight.
That said, don't go out of your way to brag.
Factors like an established business and an educated representative are simply facts that Romanians will respect, particularly if they're presented in a reserved way.
Nobody likes someone trying to win on charm alone, and Romanians tend to be less willing to trust outsiders from the start. You've got to win them over by backing your claims up with facts.
As for business meeting etiquette in Romania, before and after you actually get down to business, you need to be a little chatty. Make small talk and ask about the other party's family to show that you care about their life outside your bottom line.
Ce mai face familia dumneavoastra?
"How is your family?"
Don't rush things during the negotiations, because that breaks the facade of just being a couple of friends having a chat. Keep things light and pleasant—be interested in the small talk, for example—and the conversation will naturally turn to business of its own accord.
5. Conclusion: How RomanianPod101 Can Help You Master Romanian
The simplest thing you can do to handle etiquette in any foreign place is to try. Ask questions, laugh at yourself when you get things wrong, and stay open-minded.
Even in relatively similar cultures, there can still be big differences. Just a little bit of foresight about what others tend to value in speech and conduct can go a long way toward seeing problems as "cultural differences" instead of "whatta bunch of jerks."
And just like how you'll get good service in restaurants if you have good manners, you'll find things easier and smoother overall if you know how to navigate the etiquette in Romania. Even if you're still hung up about speaking Romanian, the more you pay attention to etiquette, the more you'll fit right in.
How does Romanian etiquette compare to customs in your own country? Let us know in the comments!
Author: Yassir Sahnoun is a HubSpot certified content strategist, copywriter and polyglot who works with language learning companies. He helps companies attract sales using content strategy, copywriting, blogging, email marketing & more.